Cream City Amusement Park – Lyons, Illinois

1907 – 1908
Written by Jeffrey Stanton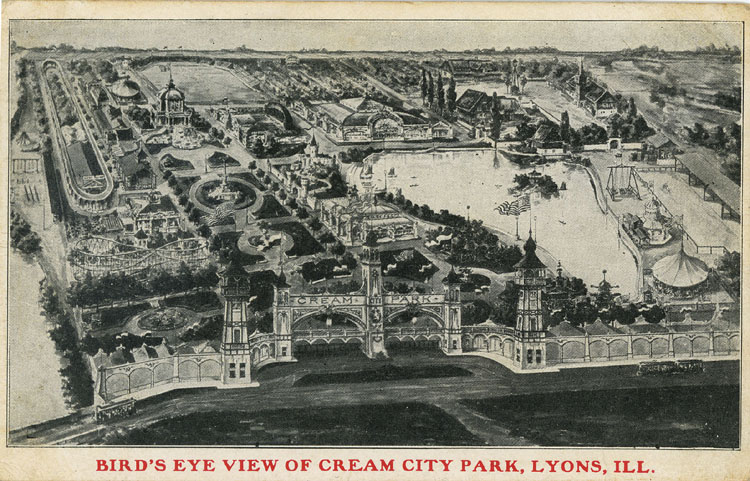 Cream City Amusement Park was built in1907 at Lyons, Illinois, a suburb of Chicago a 45 minute ride  from  central Chicago. The 45 acre site along the Des Plaines River was financed and controlled by wealthy Bohemian business and professional men in the Chicago area.  Joseph F. Klapka was chosen as the park's general manager and promoter.

The park's name was derived from the fact that all its buildings and towers were painted with a crème tint. Its main feature covering 15 acres was a reproduction of "Old Bohemia" (Czechoslovakia), featuring a Bohemian village with its picturesque streets, shops, modes of transportation, churches, theaters, natives, dancers, acrobats, musicians and mountain backdrop. Its large music hall seated 4,500 people and its ball room floor accommodated 1000 dancers at one time.

Its entrance had five Grecian towers nearly 100 feet high flanked by eight massive arches in the center. Beyond was a natural lagoon, beautifully illuminated at night. At the far end along the Des Plaines River were facilities for bathing and boating.
The park opened on July 2, 1907, but was only partially completed that season. There is little known about its ride and game attractions, but an advertisement in Billboard gives some hint. It wasn't unusual for parks to seek concessionaires because only large well financed parks owned all their r rides and concessions. Cream City needed an old mill, merry-go-round, circular swing, Cave of the Winds, billiard and pool hall, illusion shows, pony track, skating rink, Ferris wheel, Electric theater, penny arcade, gypsy camp, Katzenjammer castle, photo gallery, shooting gallery and Japanese tea garden. They disn't advertise of a scenic railway and the concept drawing doesn't show one.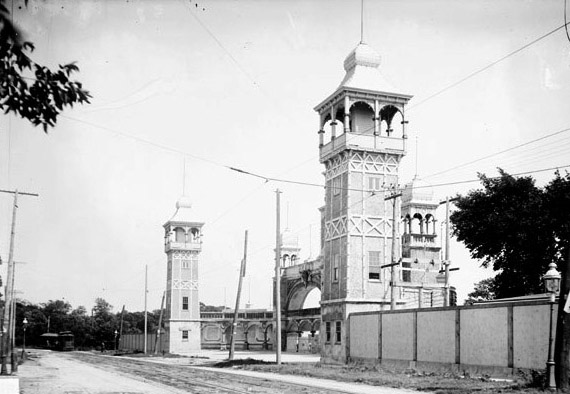 Cream City Amusement Park - Entrance
The park is alleged to have burned at the end of the its second season. While some think it lasted longer, Billboard park lists don't include it beyond the 1908 season.
Return to Lost Amusement Parks - Home Page