Grandview Park - Signac, New Jersey
1925 – 1935?

Written by Jeffrey Stanton - September 2013
Grandview Park opened near Signac, New Jersey in 1925 on a 35 acre parcel of land six miles from Patterson, New Jersey along a river according to press releases in Billboard magazine. Its rides included  the Thriller and Skyscraper roller coasters, a carousel, whip, scooter, whirlpool, whirl-the-wind, airplane swings, frolic, flier and Venetian swings. The park also featured a dance hall, restaurant, kiddie playground, and a long boardwalk along the918 feet of river bank. Canoeing was along 900 feet of the river. They announced they were building a 150 x 300 foot pool, but that didn't happen the first season.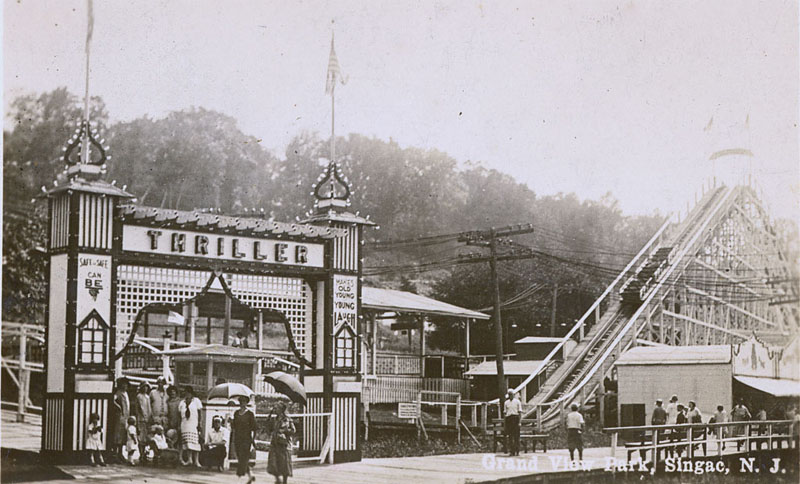 Thriller roller coaster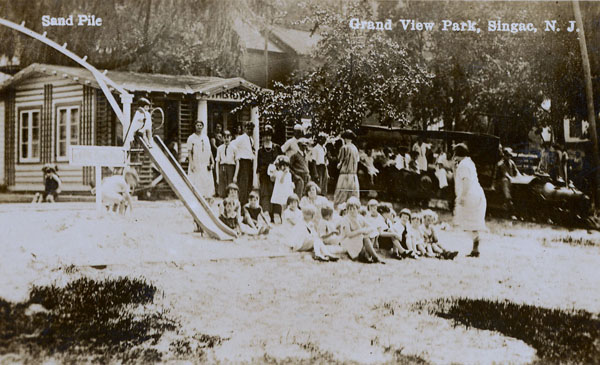 Children's playground
For the 1926 season they added an old mill, hey-dey,  caterpillar, Custer auto ride  rides bring the total to 20 rides and 80 concessions. They continued to add attractions for the 1927 season. The 1001 Troubles fun house, a tumble bug and a Ferris wheel were added.  The ride list for the season included a miniature railroad, Venetian swings, frolic, carousel, Thriller coaster, whirlpool, caterpillar, witching waves, tumble bug, Texas pony track, Skyscraper coaster, whip, Custer cars, chair-o-plane, aeroplane swings, and miniature rides in the children's playground.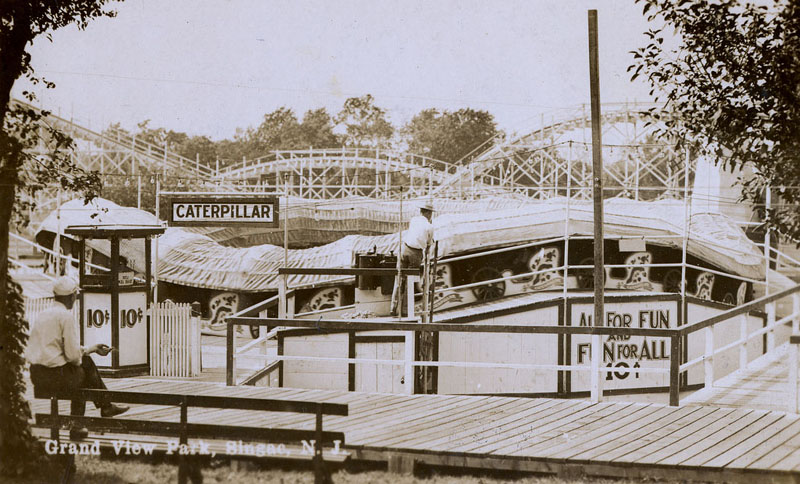 Caterpillar ride and unknown roller coaster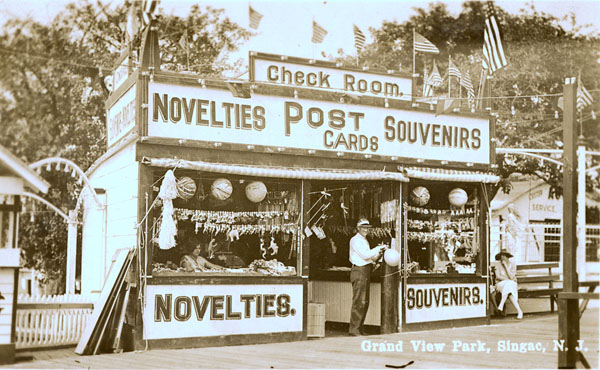 Novelty and souvenir stand
The new pool, 200 x 225 feet and its 4000 bathhouses built at a cost of $156,000 were added for the 1929 season. The dance hall was converted into a skating rink, and weekly boxing matches were held in an open-air stadium seating 7000.

Grandview Park announced that for the 1930 season that they were adding a new switchback and additional kiddie rides manufactured by the Pinto Brothers. But there was a fire that year that caused unknown damage, and since it was at the begining of the Depression,, I orginally assumed that it didn't reopen. But the ticket illustrated for 1935 season pass, shows that the park lasted at least until the mid 1930's.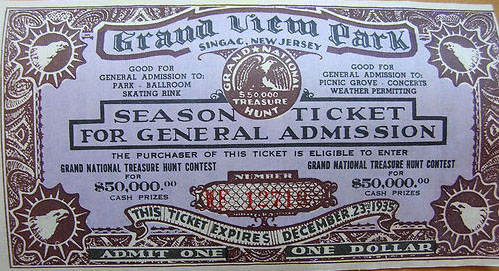 Season park admission ticket - 1935

Note: New Jersey researchers, please find the date of Grandview Park's 1930 fire and its damage, and if possible when the park closed...